Frequently Asked Questions About Sprinkler Repairs in Oakland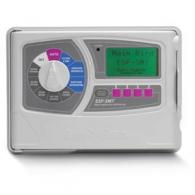 Q: Is it really worth it to upgrade to an automatic sprinkler system?
A: If you water your yard by hand or by using an manual in-ground system, you probably know how easy it is to forget to turn your system off. Not only does this waste water, but it can cause damage to your lawn and gardens through over watering. If you forget to turn them on, the situation can be even worse. Not only an automatic sprinkler system give you one less thing to deal with every day - it will also make sure that your yards are receiving the right amount of water, right when they need it. Our Oakland, CA sprinkler installation and repair technicians know how much water each tree, hedge, and shrub in your yard needs to thrive, which means we can fine-tune your water delivery system to optimize your yard health.

Automatic sprinkler systems also allow you to water before you get up for the day, in the early morning when your neighborhood water pressure is at its highest. Watering in the early morning also hydrates your plants before evaporation can work against your sprinkler system, which means that a greater percentage of water goes to keeping your plants looking green and healthy.

Q: How long does it take to install a sprinkler system?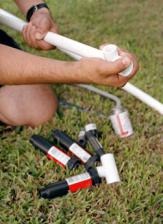 A: Installation time can vary greatly from property to property, and also depending on the number of technicians we can dedicate to the job. On average, a full installation can take anywhere from a day for a smaller yard, up to four days for a property on an acre of land.

Q: Does my automatic sprinkler system keep running if it's raining?
A: Our Oakland sprinkler repair and installation technicians regularly install rain sensors on almost all new sprinkler systems, and we've also added them to hundreds of older systems. Automatic rain sensors do exactly what you think they do. By relying on simple, reliable mechanical principles, an automatic rain sensor will send an override command to your sprinkler control system to shut off sprinkler service for a period of time. Rain sensors are extremely inexpensive pieces of equipment, which it is why we're happy to spend a few dollars more on high-grade, UV-resistant aluminum and plastic rain sensors that will work reliably for years to come.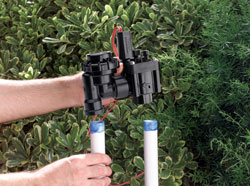 Q: What is a back flow device and why do I need one for my sprinkler system?
A: A back flow device is a brass valve assembly that prevents sprinkler system water from contaminating the drinking water supply, since safety standards, as well as water chemical makeup, can be so different between the two. Most cities in California now require back flow devices for many sprinkler applications, thought the exact requirements can vary greatly from city to city, and the standards are always changing. Speak with one of our technicians to learn about the current state of back flow device code.